This post has two recipes I made last year but I felt the ideas where too good not to share and they could both be perfect for Valentine's  treats.  With Valentine's day on a  Tuesday this week and the 'plague' going through Gattor's school right now, things have been challenging. But I plan on making some cute sugar cookies tomorrow that I will do my best to share before Tuesday.
One Bowl Chocolate Cupcakes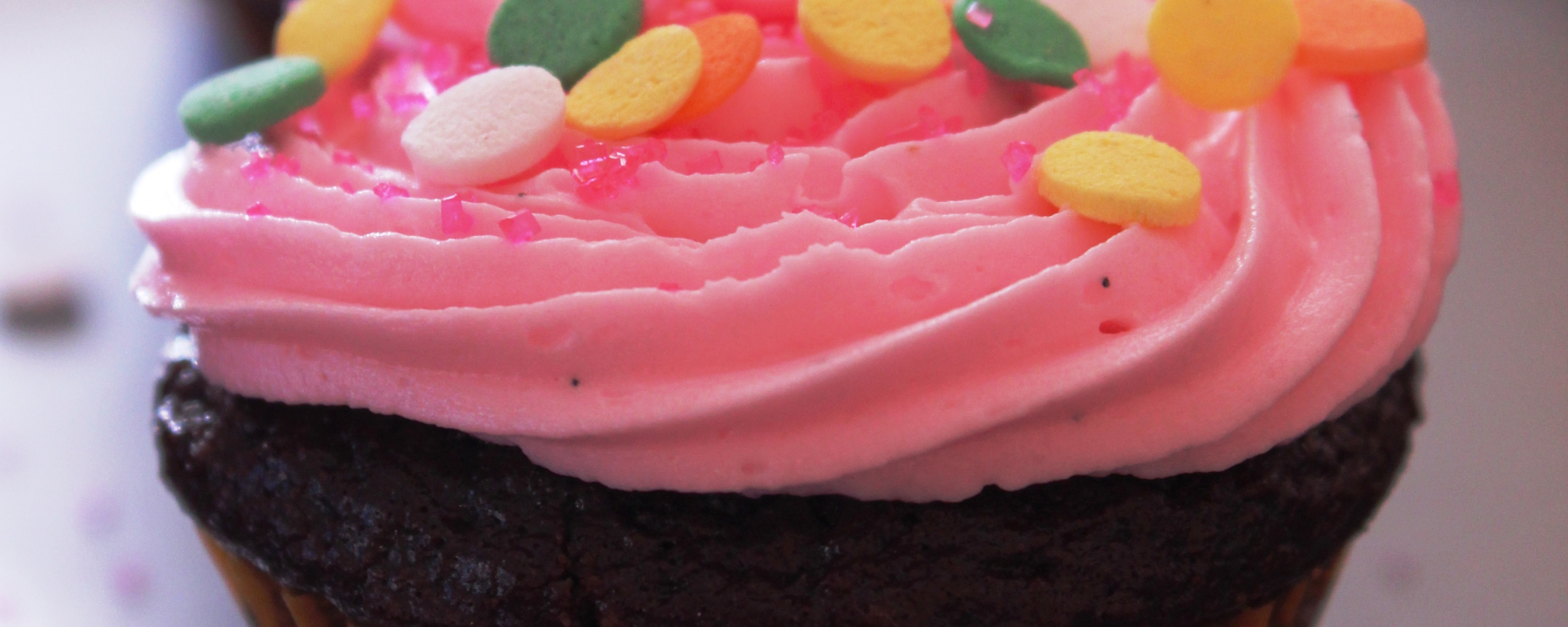 Ok, up first a super easy recipe that is great to do with the kids; one bowl chocolate cupcakes. Gattor and I made these one weekend a few months ago because I had promised her we would make some cupcakes, so we whipped them up and took them around the neighborhood to share . I chose to do mini cupcakes just for fun and to make things easier for her to decorate, she did a great job and had a lot of fun. I think these are perfect for those nights when you need a simple but delicious recipe for your kids class the next day.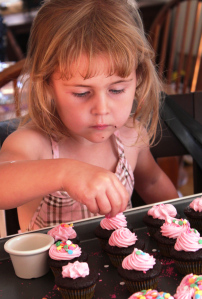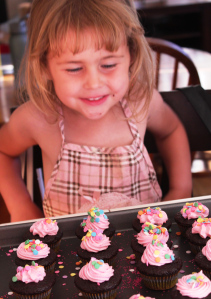 One Bowl Chocolate Cupcakes
3/4 cup unsweetened cocoa powder
1 1/2 cups all-purpose flour
1 1/2 cups sugar
1 1/2 teaspoons baking soda
3/4 teaspoon baking powder
3/4 teaspoon salt
2 large eggs
3/4 cup warm water
3/4 cup buttermilk
3 tablespoons vegetable oil
1 teaspoon pure vanilla extract
Directions
Preheat oven to 350 degrees. Line muffin tins with paper liners; set aside. Sift together cocoa powder, flour, sugar, baking soda, baking powder, and salt into a large bowl. Add the eggs, warm water, buttermilk, oil, and vanilla, and mix until smooth, about 3 minutes. Be sure to scrape down the sides and bottom of bowl to assure batter is well mixed.
Divide batter evenly among muffin cups, filling each 2/3 full. Bake until tops spring back when touched, about 20 minutes, less if baking mini muffins (check them after 12), rotating pan once if needed. Transfer to a wire rack; let cool completely.
Recipe from: Martha Stewart Cupcakes
I made a simple American style vanilla buttercream. This is a very easy but very good recipe, the use of vanilla bean paste is what really makes it special but if you don't have any that is OK, just be sure to pick some up the next time you are out. 🙂
Vanilla Buttercream
Ingredients
1 1/2 cup confectioners' sugar (add more until it reaches your preferred consistency)
1/2 cup unsalted butter, room temperature
2 teaspoons vanilla bean paste (add more to taste)
1 tablespoon milk (you can also use heavy cream-yum)
Directions
Mix together sugar and butter until they are blended and creamed. Add in the  vanilla bean paste and milk and continue to beat for another minute. If you have not reached your desired consistency sift in more confectioners' sugar to make it stiffer.
Recipe from: The Cupcake Project
Strawberry cupcakes with Strawberry Swiss Meringue Buttercream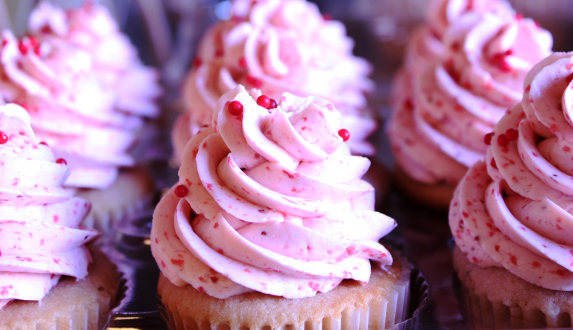 I made these cupcakes during the summer when strawberries were in season but you could easily use frozen with great results. I absolutely love this cake recipe and I have made it many times and everyone always loves it. Now the cake is great but the frosting, well that is another story entirely, in fact it really deserves its own post! It is one of the best frosting's I have ever had and its pink, what could be better than that! The use of strawberry puree in the frosting is what makes it for me, it tastes so fresh and delicious, nothing fake or sugary about it. If this frosting seems intimidating, don't worry, it really is reliable with some patience.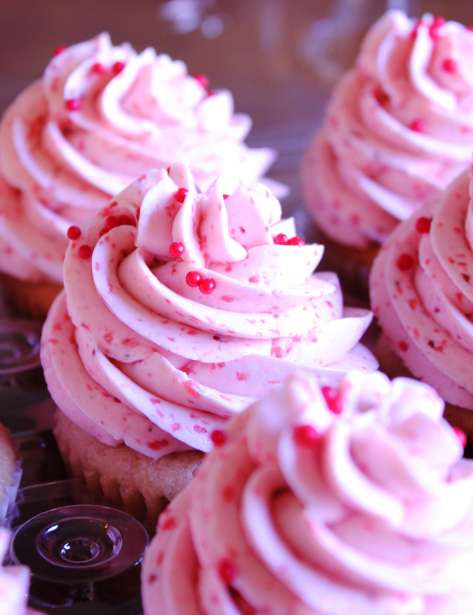 I have posted the recipe for the cake here.  You will need to adjust the cooking time, about 20 minutes for the cupcakes, this recipe also make a lot of cupcakes, about 36.
Strawberry Swiss Meringue Buttercream
Adapted from:  Martha Stewart Cupcakes
Yield Makes about 5 cups
Ingredients
1 ½ cups strawberries (about 8 oz)
5 large egg whites
1 cup plus 2 tablespoons sugar
Pinch of salt
1 pound (4 sticks) unsalted butter, cut into tablespoons, room temperature
1 1/2 teaspoons pure vanilla extract
Directions
Puree the strawberries until smooth and set aside.
Combine egg whites, sugar, and salt in the heatproof bowl of a standing mixer set over a pan of simmering water. Whisk constantly by hand until mixture is warm to the touch and sugar has dissolved (the mixture should feel completely smooth when rubbed between your fingertips or gets to 140 degrees F ).
Attach the bowl to the mixer fitted with the whisk attachment. Starting on low and gradually increasing to medium-high speed, whisk until stiff (but not dry) peaks form. Continue mixing until the mixture is fluffy and glossy, and completely cool (test by touching the bottom of the bowl), about 10 minutes. Set your timer, it makes life much simpler.
With mixer on medium-low speed, add the butter a few tablespoons at a time, mixing well after each addition. If for some reason your frosting now resembles curdled milk, don't freak out, just keep beating it; it will come back I promise. Once all butter has been added, whisk in vanilla and the strawberry puree. Switch to the paddle attachment, and continue beating on low speed until all air bubbles are eliminated, about 2 minutes. Scrape down sides of bowl with a flexible spatula, and continue beating until the frosting is completely smooth. Keep butter cream at room temperature if using the same day. This frosting can be made ahead and refrigerated, if you do that, make sure you let it get to room temp before you re-beat it. If you are using the next day, simply take it out the refrigerator the night before and let it sit on the counter, it will be the perfect temperature to whip the next morning.