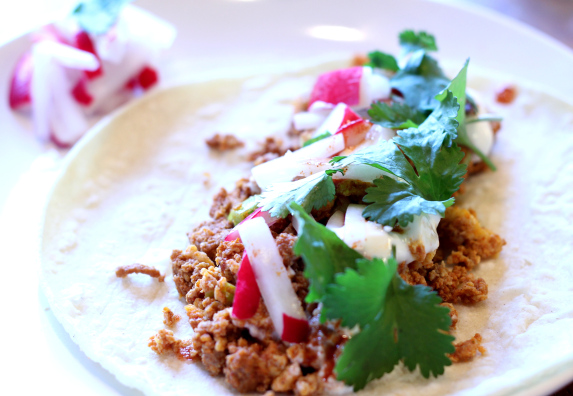 Before I met my husband I had never heard of chorizo and boy was I missing out. It is one of the best and easiest breakfasts you can make. We started out getting this breakfast at our favorite local Mexican restaurant but we kept thinking, we can do this better at home and for a lot less money. You can buy Mexican chorizo loose or packed in a tube, the latter is greasier and honestly that was the only way I had ever seen it until recently when I found my local grocery store had it by the pound. You can add to it whatever sounds good to you, eggs are about all we add in, then green onions on top but it's completely up to you. My favorite is with eggs, radishes, green onions, cilantro, sour cream and lots of Tapatio hot sauce.
Recipe:
1 pound Mexican Chorizo
2 tsp oil of your choice
6 eggs, whisk well with a touch of milk
3 green onions chopped
5 radishes, diced
8-10 tortillas (corn or flour)
1 tablespoon of chopped cilantro
Sour cream and hot sauce for toppings
Heat a large skillet on medium and add 2 tsp of oil, then add in the chorizo (if it in the casing, simply squeeze it out into the pan).Break up the chorizo and make a flat layer inside the pan, cook the chorizo until the liquid has cooked out stirring occasionally, it will become firm and crumbly (much like ground beef- about 5-7 minutes).  Meanwhile, chop up your green onions, radishes and cilantro. You may need to drain the chorizo once it's cooked if it had a lot of grease.  Next, add in the eggs and scramble with the cooked chorizo, stirring until the eggs are cooked. While this is cooking heat up your tortillas in the microwave or oven and then wrap them in some foil to keep warm.  Once the eggs have cooked you are ready to assemble. Put a large spoonful of the chorizo/eggs on the tortilla and sprinkle with radishes, green onions, cilantro and sour cream; roll and eat.