A coworker gave me some wonderful farm fresh eggs that were begging to be made into something. I had this recipe bookmarked since Christmas because my husband loves coffee cake. I just happened to have all the ingredients on hand, which never seems to happen so I whipped this up. Its incredibly easy and fast, something you could certainly do for a morning breakfast.  The book  had a variation in it for lemon/blueberry, which sounded fine but I had some frozen blackberries that needed to be used and it sounded better to me. I also made this in a rectangular pan rather than the called for bunt pan, I think either works, I just happened to purchase this pan that day and wanted to try it out. You will get a prettier slice from a bunt pan, so if you are using this for entertaining I would go with that.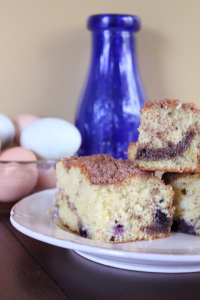 I brought this to work to share and everyone enjoyed it. The eggs were the star, nothing beats farm fresh eggs from happy chickens that hang out in a garden all day and eat completely organically.
Sour Cream Coffee Cake with Blackberries and Lemon
Source: Baking Illustrated

Ingredients:
Streusel:
3/4 cup (3 3/4 ounces) unbleached all-purpose flour
3/4 cup (5 1/4 ounces) granulated sugar
1/2 cup packed (3 1/2 ounces) dark brown sugar
2 tablespoons ground cinnamon
2 tablespoons cold unsalted butter
1 cup pecans, chopped ( I did not add nuts because I am not a fan)
Cake:
12 tablespoons unsalted butter (1 1/2 sticks), softened but still cool, cut into 1-inch cubes
4 large eggs
1 1/2 cups sour cream
1 tablespoon vanilla extract
2 1/4 cups (11 1/2 ounces) unbleached all-purpose flour
1 1/4 cups (8 3/4 ounces) granulated sugar
1 tablespoon baking powder
3/4 teaspoon baking soda
3/4 teaspoon salt
1 teaspoon lemon zest
1 cup frozen blackberries
Directions
For the streusel: Place the flour, granulated sugar, 1/4 cup dark brown sugar, and the cinnamon in a food processor and process to combine. Transfer 1 1/4 cups of flour/sugar mixture to small bowl and stir in remaining 1/4 cup brown sugar; set aside (this will be the streusel for the inside of the cake). Add the butter and pecans to the remaining dry ingredients in the food processor bowl. Process the mixture until the nuts and butter have been broken down into small pebbly pieces. Set aside. (The streusel with the butter and nuts will be for the top o the cake).
For the cake: Adjust oven rack to lowest position and heat oven to 350 degrees. Grease a tube pan (10-inch diameter, 10-cup capacity). Combine eggs, 1 cup of the sour cream, and vanilla in a medium bowl.
In the bowl of a standing mixer, combine the flour, sugar, baking powder, baking soda, and salt at low speed, about 30 seconds. Add the butter and remaining 1/2 cup of sour cream and mix at low speed until the dry ingredients are moistened. Increase to medium speed and beat 30 seconds. Scrape down the sides of the bowl with a rubber spatula. Decrease the mixer speed to medium-low and slowly incorporate the egg mixture in 3 additions, beating for 20 seconds after each and scraping the sides of bowl as necessary. Increase speed to medium-high and beat for 1 minute (the batter should increase in volume and become aerated and pale in color).
Toss 1 cup frozen blackberries with 1 teaspoon grated lemon zest in small bowl. Add 2 cups of the batter to the prepared pan. With an offset metal spatula or rubber spatula, smooth the surface of the batter. Sprinkle with 1/2 cup of blackberries and 3/4 cup streusel filling (without butter or nuts). Drop 2 cups of the batter over the streusel and blackberries, spread evenly, and then add the remaining blackberries and streusel filling. Top with remaining batter and then the streusel topping (with the butter and nuts).
Bake until the cake feels firm to the touch and a toothpick or thin skewer inserted into center comes out clean (although there may be bits of sugar from the streusel clinging to the tester), 50 to 60 minutes. Cool cake in pan on for 30 minutes. Place a rimmed baking sheet over the top of the cake and invert the cake onto the pan (the cake should now be upside down, with the streusel on the bottom). Remove the tube pan, place a wire rack on the cake, and reinvert so the streusel is facing up. Cool for 2 hours and serve or cool completely and wrap the cake in aluminum foil.