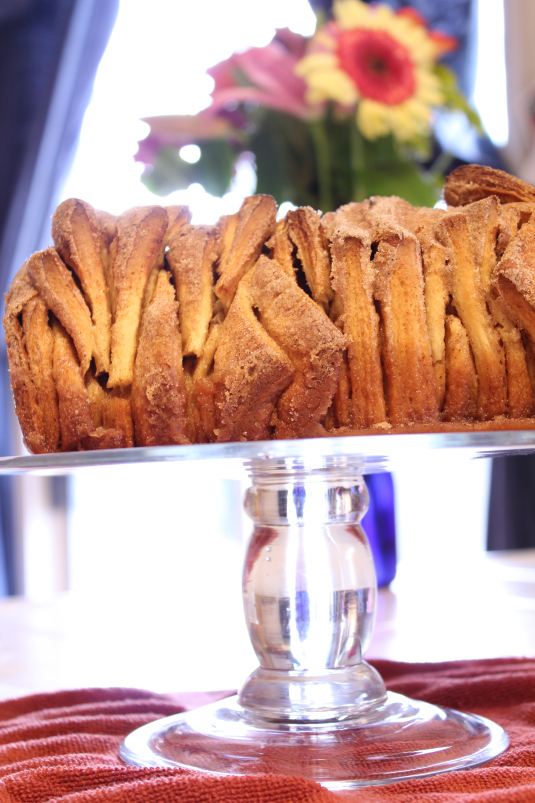 What better to do than make some fresh delicious bread while you are home with a sick child. I remember seeing this recipe a while ago and it seemed the perfect treat for sick little Gattor. It's a rather simple recipe, no copious amounts of kneading, you simply cut it up and then bake it.  So if you are not a bread maker, as I am not, I still encourage you to go for it. If you are going to make this for breakfast keep in mind the length of time you will need for the rising and resting. I started this around 10:30 AM and we were not nibbling on it until after 1 in the afternoon.  I added lots of pictures because I took advantage of the wonderful daylight.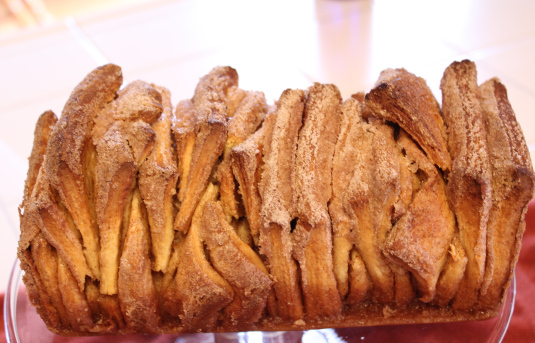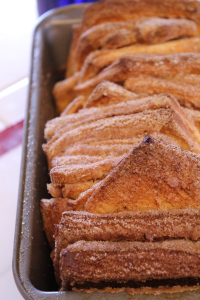 Makes one 9×5×3-inch loaf
Recipe Source: Joy the Baker
For the Dough:
2 3/4 cups plus 2 tablespoons all-purpose flour
1/4 cup granulated sugar
2 1/4 teaspoons (1 envelope) active dry yeast
1/2 teaspoon salt
1/4 cup unsalted butter
1/3 cup whole milk (I used 2%)
1/4 cup water
2 large eggs, at room temperature
1 teaspoon pure vanilla extract
For the Filling:
1 cup granulated sugar (you could cut this down to 3/4 cup)
2 teaspoons ground cinnamon
1/2 teaspoon fresh ground nutmeg
2 ounces unsalted butter, melted until browned
In a large mixing bowl  whisk together 2 cups flour, sugar, yeast, and salt. Set aside.
Whisk together eggs and set aside.
In a small saucepan, melt together milk and butter until butter has just melted. Remove from the heat and add water and vanilla extract. Let mixture stand until the mixture registers 115 to 125 degrees F.
Pour the milk mixture into the dry ingredients and mix with a spatula. Add the eggs and stir the mixture until the eggs are incorporated into the batter.   Add the remaining 3/4 cup of flour and stir with the spatula for about 2 minutes (I ended up kneading it a bit to get it to come together). The mixture will be sticky and that is what you want.
Place the dough is a large, greased bowl. Cover with plastic wrap and a clean kitchen towel. Place in a warm space and allow to rest until doubled in size, about 1 hour. *The dough can be risen until doubled in size, then refrigerated overnight for use in the morning. If you're using this method, just let the dough rest on the counter for 30 minutes before following the roll-out directions below.
While the dough rises, whisk together the sugar, cinnamon and nutmeg for the filling. Set aside. Melt 2 ounces of butter until browned. Set aside. Grease and flour a 9×5×3-inch loaf pan.
Deflate the risen dough and knead about 2 tablespoons of flour into the dough. Cover with a clean kitchen towel and let rest for 5 minutes. On a lightly floured work surface, use a rolling pin to roll the dough out. The dough should be 12-inches wide and about 20-inches long. If you can't get the dough to 20-inches long… that's okay. Just roll it as large as the dough will go. Use a pastry brush to spread melted butter across all of the dough. Sprinkle with all of the sugar and cinnamon mixture. -I had a lot of sugar mixture left over, hence the reason you could cut it to 3/4 cup.
Slice the dough vertically, into six equal-sized strips. Stack the strips on top of one another and slice the stack into six equal slices once again. You'll have six stacks of six squares. Layer the dough squares in the loaf pan like a flip-book. Place a kitchen towel over the loaf pan and allow in a warm place for 30 to 45 minutes or until almost doubled in size.
Place a rack in the center of the oven and preheat to 350 degrees F. Place loaf in the oven and bake for 30 to 35 minutes, until the top is very golden brown. The top may be lightly browned, but the center may still be raw. A nice, dark, golden brown will ensure that the center is cooked as well.
Remove from the oven and allow to rest for 20 to 30 minutes. Run a butter knife around the edges of the pan to loosen the bread and invert onto a clean board. Place a cake stand or cake plate on top of the upside down loaf, and carefully invert so it's right side up. Serve warm.