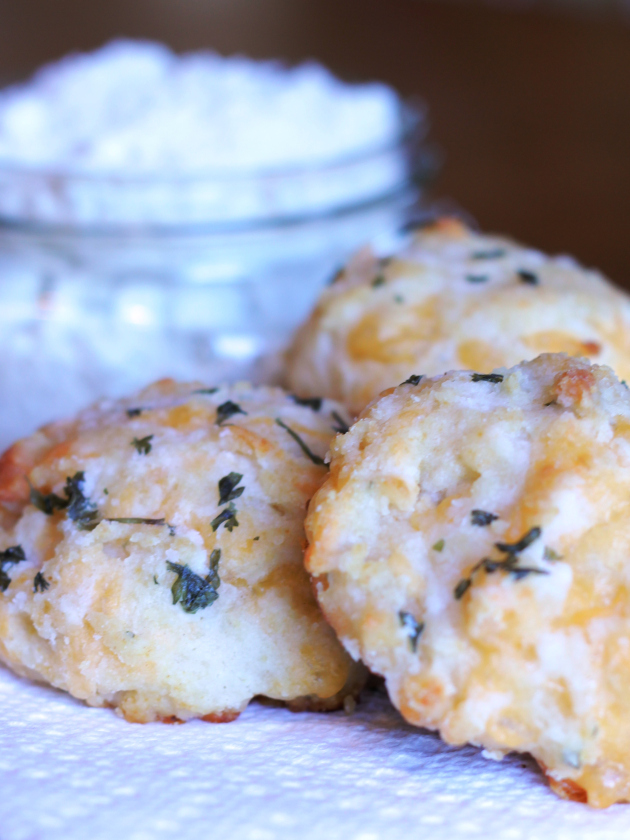 I know you have done it; gone to a restaurant and filled up on bread… well I have. I can think of three restaurants off the top of my head that I love because of their bread. I will admit sometimes I feel ordering a meal is not necessary because I could simply scarf down bread for my dinner.
These biscuits are very popular and for good reason, they are delicious- what's not to like, bread-cheese-butter-garlic, yum. The scary part is how simple they are to make, oh wait, you don't have Bisquick, no problem, you can make that too!
Cheddar Bay Biscuits
Yield: 15 biscuits
2 cups Bisquick mix
1/2 teaspoon garlic powder
1 1/2 cups shredded cheddar
2/3 cup milk
3 tbsp butter
1 tsp dried parsley (you can use fresh)
1 tsp garlic salt
Preheat oven to 400˚ and line a baking sheet with parchment paper or use a baking stone.
Mix Bisquick, garlic powder and cheese in medium bowl.  Stir in milk until just combined.  Scoop lumps of dough onto the cookie sheet and bake for 10 minutes.
While they are baking, melt the butter, then stir in the parsley and garlic salt.  After 10 minutes, pull them out of the oven and brush them with the butter mixture. Bake for another 5 minutes, or until golden brown.
Before serving, brush the biscuits with the remaining butter mixture.
*The beauty of the recipe is that you can change it up however you see fit. You could use buttermilk instead of milk and substitute pepper jack cheese and some cayenne pepper, the combos are endless.
Recipe Adapted from: Pennies on a platter
Homemade Bisquick
  9 cups flour
  1/3 cup baking powder
  1/4 cup sugar
  1 1/2 cups shortening
  1 tablespoon salt
  1 cup powdered milk (optional)
  2 teaspoons cream of tartar (optional) –I did not add this
  In a large mixing bowl or food processor, mix all the dry ingredients together. Then cut the shorting into the mix or if using a food processor pulse in the shortening until it resembles sand. Store in an airtight container, does not have to be refrigerated.
*I halved this recipe and had plenty for two batches of biscuits.
Recipe adapted from:  Ehow.com