Chocolate cupcakes with malted frosting and toasted marshmallow filling
19 Apr 2012 6 Comments
by theregoesthecupcake in Cupcakes, Uncategorized Tags: chocolate, cupcake, malt, marshmallows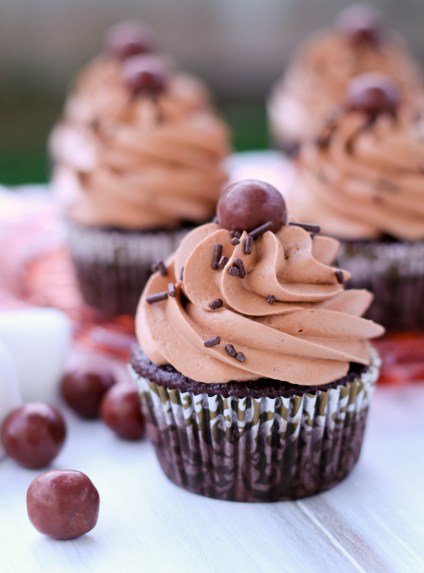 The first time I spotted these cupcakes I knew they would be perfect for a coworker's birthday. Never did I imagined I would find these to be one of the best cupcakes I have ever had. I am not a chocolate cupcake person, alway been partial to vanilla but something about the combination of malt, chocolate and the marshmallow filling holy cow it was insane seriously like crack,  I was in love. To emphasize even more how good these are, my husband who doesn't like cupcakes, ate 4, yes not only ate 4 but  did the over the kitchen sink-hope my wife doesn't see me-because I am stuffing myface-good.  I think it goes without saying, these were an enormous hit at work, in fact people were fighting over them.  I already have two other people who have requested them for their birthdays. I am making them again next week and I am going to try using a malted chocolate cake, I will let you know how that goes. So if you want to be a rock star, bring these to your next party!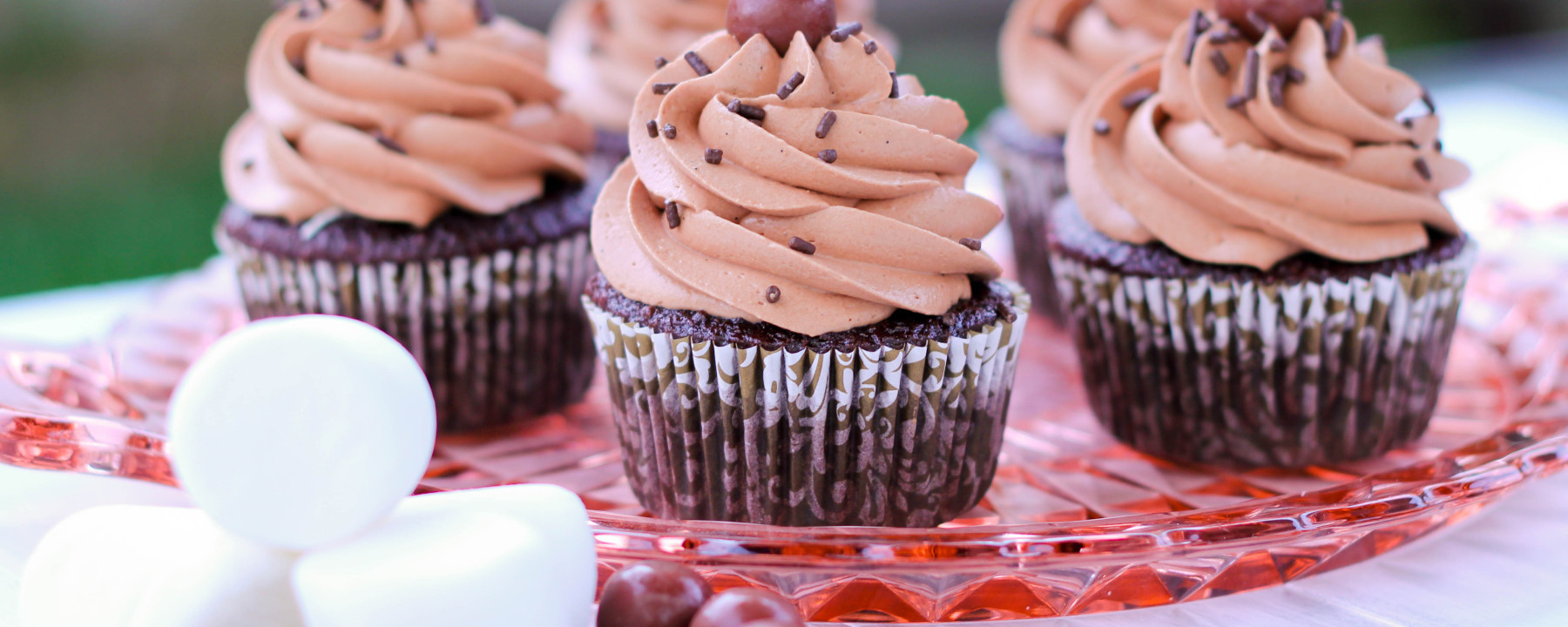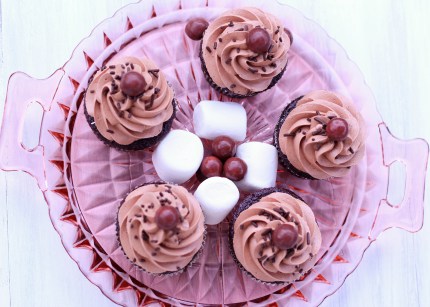 Chocolate Cupcakes:
Makes 24
 1 ¾ cups all-purpose flour
2 cups granulated sugar
¾ cups cocoa power (extra dark works well)
2 teaspoons baking soda
1 teaspoon baking power
1 teaspoon salt
2 eggs (room temperature is always good)
1 cup strong black coffee (can be hot)
1 cup buttermilk at room temperature
½ cup vegetable oil
1 tablespoon pure vanilla extract
 Preheat the oven to 350 F then line your muffin tins with cupcake liners. In your electric mixers bowl sift all the dry ingredients together. Then add all the wet ingredients to the dry and mix with the paddle attachment for 2 minutes on medium speed. (the plastic guard is good to use to keep the splashing contained). Pour the batter into the cupcakes liners 2/3 full, the batter is liquidly so using an ice cream scoop is easiest.
 Malted Chocolate Frosting
 ¾ lb butter (3 sticks) at room temperature
1 ½ cups powdered sugar
2 teaspoons pure vanilla extract
¾ cup Ovaltine or malted powder
6 oz good quality bittersweet chocolate, chopped and melted
½ cup whipping cream
 In your stand mixer use your paddle attachment to combine the powered sugar and butter and beat on low speed for about 1 minute. Add the vanilla and malt powder and beat on low until combined. Add the melted chocolate and beat on medium speed until smooth- about 2 minutes. Add whipping cream and beat on medium high speed for another minute. Because this frosting has the whip cream in it I would not make it too far in advance, best to make and frost but it keeps well at room temperature.
 Toasted Marshmallow Filling (crack)
 20 large white marshmallows
½ cup powdered sugar
½  cup unsalted butter (1 stick) at room temperature
½ teaspoon pure vanilla extract
4 oz Marshmallow Fluff (Kraft Jet-Puffed marshmallow cream)
Pinch of salt (kosher is best)
 Place the marshmallows on a cookie sheet lined with parchment paper or SilPad. Broil on a lower rack in the oven until nice and brown- do not step away from the oven; they go from brown to burned very fast. Pull them out of the oven and let cool while you combine the butter and powder sugar in your electric mixer with the paddle attachment on low until blended. Add vanilla and mix on high for 3 minutes. Add marshmallow cream, toasted marshmallows and salt, mix on medium for about a minute. I combined mine a bit more to get the big clumps of marshmallows to combine but that is up to you.
 Now to Assemble:
 I found these cupcakes to be a bit soft and cutting the cone out was difficult, therefore I used an apple corer to cut a hole out of the middle. If you do not have one, you can use the cone method just be gentle.  The marshmallow filling is hard to spoon so use a piping bag or ziplock bag to squeeze some filling into the cupcake hole. You will need a large tip because of the large pieces of marshmallows, if you do not have one, then just cut a hole off the corner of a ziplock bag-they work great. Put in just enough filling to be level with the top of the cupcake. Then swirl the malted chocolate frosting on top, (Ateco #887 works). I topped with chocolate sprinkles and a malt ball. They will last for three days in an air tight container.
 Recipe slightly adapted from: Sweetopolita